Blog
Improvise better, win 2023 SaxJam - some practical techniques for a better sax solo
Nov 09, 2023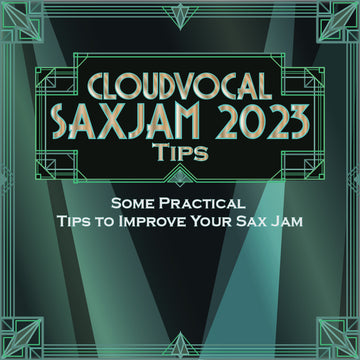 It's the second year of Cloudvocal Sax Jam! Through this event, we aim to connect players worldwide, fostering mutual understanding and creating exciting sparks through spontaneous improvisation over the backing track. Just use #23cloudvocalsaxjam to find all the uploads from all over the world on YouTube.
At the same time, our panel of judges, https://saxschoolonline.com, has created practical instructional videos for this Sax Jam event. With their consent, we have extracted the essence and put it into this blog post, hoping it will help performers get a better sax solo. We strongly recommend checking out the full instruction video as well as the brilliant solo over the backing track on their YouTube channel. 
Major Blues Scale 
Since the chord progression has a lot of blues elements, it's not a bad idea to start with the major blues scale. The formation is 1, flat3, natural 3, 5 and 6. 

Here's an example of a C major blues scale. The major blues scale has a major vibe that tends to give a lighter feeling. 
Minor Blues Scale
So if you want to darken up a bit, using the minor blues scales could be a way to make you sound darker.  

Here's an example of a C minor blues scale. The formation is 1, flat 3, 4, flat5, 5 and flat7.
Combining the Major and Minor
Rather than using only major or minor blues scales, combining both scales might give you a better result. Just let your feelings lead you to choose what notes to play. 
More techniques and examples
Well, there are more approaches to help you sharpen your improvisation and make you sound better. Visit https://saxschoolonline.com/articles/3-easy-blues-tactics-for-sax/ for the rest of the techniques and explanations in detail. Don't forget to put into practice with our backing tracks and upload it to enter this's Sax jam!