Blog
Would a violinist in a rock band have to get an electric violin?
Oct 18, 2023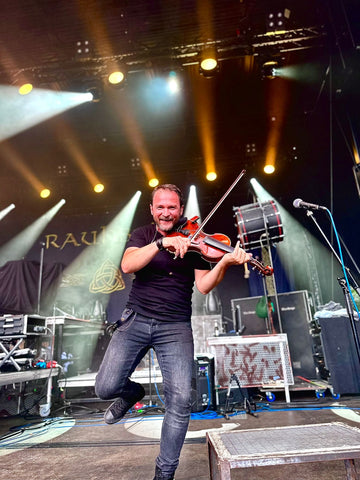 Every so often, we encounter questions like, "I want to play a nonclassical piece with my acoustic violin. Can the VF-10 wireless system help me do that?" It seems that many performers who are accustomed to playing acoustic violin still hope to use their familiar instruments for various genres. The best answer to this question came to us after meeting Justin Ciuche. Therefore we decided to share his firsthand experience using the VF-10 as a touring musician on the stage for over 40,000 audiences. We hope that insights from an actual performer can assist more musicians.

About Justin Ciuche
Born in Romania, Justin started violin at the age of 6 and continued his studies until his graduation at the Music Academy in Cluj, Transylvania. Coming from a classical music background, he embraced during his studies and after, other genres like jazz and world ethnic music. After years of concerts and folklore research around Europe, Justin moved to the Middle East, as a violinist for the United Arab Emirates Philharmonic Orchestra in Abu Dhabi and a violin teacher at the SABIS International School. He worked also as a music composer for the Patravadi Theater in Bangkok and since 2012 he relocated to Germany where he is currently working and living.
Photo
©
Johannes Förster


Justin is active as a violinist for Anne Clark, as well as the German Folk/Rock band Rauhbein. Other bands where he collaborates are the ethnic/jazz band Rahalla or Itchy Kolo. As a studio musician, he recorded on more than 30 albums, most of them recorded at the Grammy Nominated studio Stockfisch Records. Among artists he collaborated with are Hannes Wader, Reinhard Mey, Ernst Horn (Deine Lakaien), Tony Christie, Dennis Poschwatta (Guano Apes), Hossam Shaker or
Michael
Robert Rhein (In Extremo). As a composer, Justin produces music for film and documentaries, as well as theater productions (Deutsches Theater Göttingen, Boat People Project, Arca Theater Bucharest)

Justin's Feedback on the ISOLO VF-10

Not long ago, I discovered the relatively new solution for amplifying the violin that CLOUDVOCAL offers. My search for an amplifying solution that can be used on loud big stages and still delivers a quality sound that keeps the natural sound of the violin has been long. So I immediately contacted the CloudVocal Team. I have been met with great professionalism and amazing friendliness from both their team in Taiwan and their official distributor in Germany.
As soon as I received my
ISOLO

VF

-

10

Violin Wireless System
I was impressed by the quality packing and the well-built and sturdy product itself. The initial setup was very easy and straightforward, so in a matter of minutes, I was already playing the first notes. And what a wonderful surprise I had. Both piezo and microphone functions deliver a great sound, keeping in line with the natural sound of my violin. This is the first piezo pickup that keeps a well-balanced tone over all 5 strings of my violin.
The fact that the receiver offers also some equalizing and reverb colors, just makes everything so nice and easy to find the tone you are looking for. Over the last summer, I have only used the CLOUDVOCAL ISOLO
VF
-
10
on stages with audiences from 2-300 to 40,000 people and everything went very smoothly and with no problems.
Not only the audience received well the violin sound, but many musician colleagues, especially violinists were amazed and curious about my new wireless amplifying solution. It sounds good, it's easy to work with and it lets me focus only on the beauty of delivering a good performance.


If you have musician friends with similar needs, feel free to share this article with them.