Blog
Tech And Specs For Taking Music Lessons Online
May 29, 2023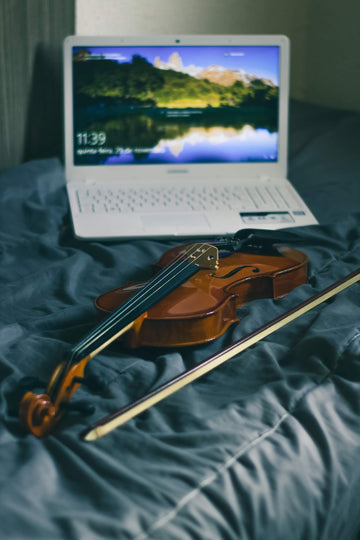 Insights from a 21st Century Violinist
by Megan Shung on April 25th, 2020
It's more than a month since schools and businesses have closed to slow the spread of Covid-19. As a music teacher, parent or student, you are probably wondering how on earth am I supposed to teach/learn online when your instrument requires tone improvement? Here are the information you will need if you decide to teach/learn online.
Tech & Specs for Teachers
---
Video Conference Software
I recommend "Zoom"
✔ User friendly especially for group calls
✔ Software stability
✔ Good sound quality
✔ Reusable meeting ID and password
✔ Additional tools: Screen share, record, whiteboard, and waiting room function.
Spend time to adjust the Zoom settings that work best for you. You'll thank me later.
Sound Equipments
A good external microphone can make a difference. Unless you are using an USB mic, most mics will need an audio interface before plugging in to the computer. Many musicians already own a Zoom H4n. It can work as an external mic with a built in audio interface. I sure love a versatile bargain! Use a comfortable pair of headphones to avoid feedback. Most importantly, your internet speed will determine most of your sound experience. When using wifi, make sure you are in good range of your router and run an internet speed test. An internet speed of 40 Mbps or faster for best results.
Audio Equalization (EQ)
Because the instrument's sound is being processed through a mic, an interface and the internet, its natural sound is not being well represented. Specifically, acoustic violin will output uncomfortable frequencies, especially on the E string that can be painful to the ear. Using an electric violin like a Yamaha Yev-104 and a good acoustic amp or PA, like a Fishman Loudbox Mini Acoustic Amp, can be a game changer.
By dialing and testing the sound in zoom, create a tone that most closely resembles a natural acoustic sound. (See picture below for my current EQ)
Intonation
I use a free tuner/metronome app called "Sound Corset" (Android/iOS). What stood out about this app:
✔ Recording function
✔ Tracks sound quality on a visual grid
✔ User friendliness
Students gain confidence in their ability to practice and correct their own intonation. Many of them reported that the app is most effective when they are playing with a "consistent ringing tone".
You don't say!
Annotate music
To annotate music, I use the iOS app ForScore on an iPad Pro. It imports PDFs easily and allows annotations using a stylus. Students upload a PDF of their music to Google Drive, I download then reupload the annotated markings from the app at the end of the lesson.
Good lighting
Good lighting is important for the eyes. Your laptop camera should face away from the window. Using a clip-on stand light like this one, is a useful versatile item.
Talk Less – Visual Cues!
At the start of every lesson, we warm-up on a scale routine. I would mute myself and hold up a note card at a time until the student successfully accomplishes each task. We play games around that idea, with my favorite cards being positive reinforcements, like "Beautiful!"
Making Music Fun!
Enjoying music is an active task. We have so much fun in my physical lessons, as I improvise accompaniments with my student's scales and review pieces to inspire musicality. Since playing simultaneously isn't possible due to the internet lag, I started making "Big Meg's Funky Beats" on Logic ProX and GarageBand for students to play along with as fun backing tracks. This makes group class especially fun.
Lastly, if you are as clumsy as I am. I highly recommend the carbon fiber bow like a CodaBow! I can't tell you how many times I've hit my desk with the bow and had it ricocheted back in my face. Full disclaimer: Carbon fiber bows do not hurt any less than wood bows…
Pro Tips for a Pro Student
---
◎ Set a recurring alarm, 15 minutes before your scheduled class
◎ Set up within range of your router
◎ Place a music stand to your left and a table or another music stand for the computer/tablet in front of you
◎ Practice standing with the instrument in frame.
◎ Avoid wearing light colored clothings that blends in with your hands
◎ Download a tuning app
◎ Tune your instrument before the lesson: How To Tune Your Instrument
◎ Use a good speaker (JBL Flip) and set the mic to the computer's mic. How to set Zoom to "Music Mode"
◎ Scan pdfs of your music, and upload to shareable cloud source like Google Drive with your teacher
There are many other great teachers who've been teaching online for years. A few that came to mind Christian Howes – founder of the Creative Strings Academy, Avi Friedlander – Director of the Barston Suzuki Center at the Music Institute of Chicago, and Dr. Mary-Elizabeth Brown, who has given several clinics on online teachings. The Facebook Group: Distance Learning Forum for Suzuki Teachers has been a valuable resource. I am also a regular subscriber to Violinist.com and Backstage Forum who have both provided lots of relevant articles written by professional violinists and teachers.
Everyday I am learning and coming up with new ideas to improve my online teaching skills and set up, which as we have all experienced, is a moving target these days. I sure hope all of that was helpful! As one of my favorite people, Cindy Fogg, likes to say, "I just can't wait to jump back to teaching and 'Re-Zoom' again!"
WRITTEN BY
Megan Shung
Megan Shung is an international artist, composer, recording artist, educator based in the Los Angeles area. Classically trained at the Cleveland Institute of Music, she is also adept at non-traditional performance practices and styles including jazz, raga, and rock. She has performed/recorded with many artists including The Red Hot Chilli Peppers, Jhene Aiko, and Billy Childs. A passionate educator, she is currently a Suzuki violin/viola faculty and the Suzuki program coordinator at the Pasadena Conservatory of Music. In addition, she is a frequent workshop clinician with a specialization in teaching sequential improvisation to young string players.