Blog
Recording experience comparison
May 01, 2021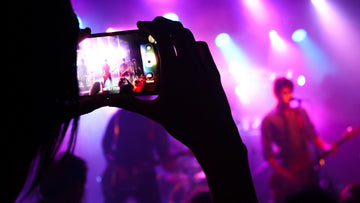 AR1 / JOINup / USB Wireless Recording
As CloudVocal's product line continues to expand, many customers are wondering about the differences between our recording offerings. Which kind of equipment is the best fit for your personal needs? The following article explains and analyzes three products in our line to provide answers to these questions. We hope that after reading, you will have a better understanding of the differences between these products and their unique functionality.
0. The Basics of Recording
Recording is essentially the process of converting vibrational energy from sound waves into electric current, and then converting this current (analog) into a digital signal that can be saved. A microphone is a device that converts sound vibrations into an electric current, whereas a device that converts electric current into a digital signal is called an audio interface.
The same principle of analog-to-digital conversion applies when using a cell phone to record audio or video. However, a major drawback of phone microphones is that they are omnidirectional. As a result, if the recording environment lacks suitable sound absorption or isolation, ambient sound like street noise, voices, etc. will be captured.
A quality recording typically requires three key elements: a suitable microphone, a recording environment with proper sound absorption and isolation, and a stable audio interface.
1. USB Wireless Recording
In densely populated cities where space is tight, a recording environment with adequate sound absorption and isolation is typically the costliest element of the three. Our USB Wireless Recording takes advantage of the high-proximity, directional ISOLO Wireless Microphone to minimize the impact of ambient noise, so there's no need to worry about interference from the environment. The USB Wireless Recording contains both a wireless receiver and an audio interface and can be connected directly to a phone or PC.
The USB Wireless Recording can provide pure, clean sound quality for those comfortable with multi-track recording and post-production. If you are looking to add backing track or effects like reverb or delay, another product would be more suitable.
2. JOINup Mobile Interface
As many audio interfaces include preamp functionality, they tend to use a lot of power and cannot be used with iOS devices, which have a restricted power supply. JOINup, however, works under even the tightest power restrictions. Just connect your phone and the ISOLO stage receivers you can produce recordings with both effects and backing tracks.
JOINup Mobile Interface is easy-to-use for anyone who has experience with similar equipment and is compatible with microphones from other brands. For those who are just starting out with this type of audio equipment, some time may be required to get the hang of set-up and adjustment.
3. AR1 Key Chain Recorder
The brand-new AR1 Key Chain Recorder provides the most convenient recording experience for ISOLO users. Just connect AR1 to your phone and into ISOLO's output jack and you can start recording audio and video right away. The built-in battery not only extends the usage time of your phone, but also reduces the hiss and hum resulting from the connection of an external power supply and power cables.
Turn on your ISOLO receiver and pair the mic as usual, connect the AR1 to the output end
Turn on your ISOLO receiver and pair the mic as usual, connect the AR1 to the output end
How to choose between these three models? A feature comparison
To summarize, the three products above all provide a significant degree of noise reduction when paired with the ISOLO Wireless Microphone, capturing the natural, full sound of any instrument. Considering that our USB Wireless Recording is now sold-out and out of production, the JOINup Mobile Interface is the best choice for maximum functionality and is suitable for those familiar with similar equipment. AR1 is a great fit for those looking to quickly share recordings captured with the ISOLO microphone.
Comparison chart of key features:
| | USB (out of production) | JOINup | AR1 |
| --- | --- | --- | --- |
| Sampling rate | 24 bit / 48 KHz | 24 bit / 48 KHz | 24 bit / 48 KHz |
| Headphone monitoring | No | Yes | Yes |
| Volume balance indicators | None | Single indicator light | Three-level indicator |
| Recording format | Instrument only, no effects or accompaniment | Support for effects and accompaniment | Support for effects and accompaniment |
| Cross-brand compatibility | Only supports the ISOLO Microphone | Supports other products via 6.3mm and 3.5mm | Only supports the ISOLO Performance Series Microphone |
| Support for real-time sharing | No | Supported via 6.3mm | Supported via 3.5mm |
To review, the three key elements of a quality recording are a suitable microphone, an environment with good sound absorption and isolation, and a stable audio interface. At CloudVocal, we know that acquiring and maintaining an adequate recording environment can be difficult. Our aim is to leverage integrated technology to provide simple, easy-to-use solutions for high-quality audio. Our products allow those who have a passion for sharing the joy of music to break free from the limitations of their recording environment.