Blog
Believe in music week online event summary
May 26, 2023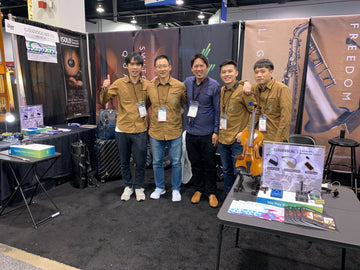 Why Online event? 
To Cloudvocal team, January is usually a very busy month because of NAMM. Not only we need to pack ourselves up in advance and in a hurry, engineers are also racing against time to refine and examine products so they could perform perfectly in front of musicians all over the world.
However, COVID-19 came and intervened almost every great event including NAMM 2021. Due to health concerns, the trade show transformed into a virtual event so people can attend and join remotely. Therefore, we came up with the idea "Keep the distance but stay connected" correspond to NAMM 2021 believe in music week.
ISOLO PRIME New Release
Originally we would like to take the chance to thank musicians personally for the birth of ISOLO PRIME, our flagship product for wind instrument. Their actual test run and feedback of the prototype in NAMM 2020 gave us confidence that, not only the dynamic range of the microphone is improved, both the preamp sound quality and the effects algorithm are into another level.
Tone comparison of DPA 4099 & ISOLO PRIME
8 EFFECTS DEMO – ISOLO PRIME
Retrospect and prospect
To Cloudvocal team, NAMM is a special place to meet great musicians, to have feedback from people in the business and most importantly, to witness the power of music that bonds people together. It was really amazing to meet players like Kirk Whalum in person and to have him trying our product in NAMM 2019. Also we never thought there would be a chance that we could lend Chloe Trevor our microphone so her wonderful playing could be heard much better at the booth in NAMM 2020.
We hope there will soon be a remedy, so we can reunite in NAMM2022. Before that, Cloudvocal will keep refining our product to provide the perfect support for musicians.
Feedbacks from musicians
n the "Keep the distance but stay connected" event, we had musicians met at NAMM to share about their thoughts about using Cloudvocal product and introduce their music, projects ..etc to the audience around the world. You can find more about them at the end of the article.