Blog
What is an IEM? Some frequently asked questions about EverSync
Jul 14, 2023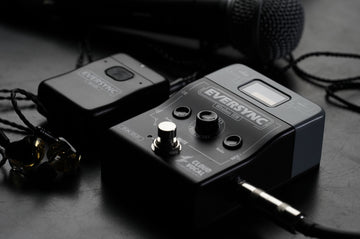 After a period of preparation, Cloudvocal is pleased to announce the official launch of EverSync. In order to help everyone know the new product better, we have prepared a series of frequently asked questions and answers so that you can know how EverSync will help.

Q1. What is IEM? What can I use it for?
IEM stands for In-Ear Monitor. It represents a special category of headphones commonly used by live performers which allows them to hear the desired sound mixes clearly from the earphones during performances instead of the floor monitors.
The main difference between IEM and floor monitors is the reduction of amplification from the monitor speakers which can avoid feedback and protect the performers' hearing. This creates more space for stage setup. If performers have to listen to stage cues or the sound of a metronome, they don't have to worry about the sound being heard by the audience by wearing the IEMs.
Q2. What frequency does EverSync use? Can I use it in my country?
EverSync is a wireless IEM product that operates on the 5.8GHz wireless frequency band. Most countries have similar regulations for the 5.8GHz band as the 2.4GHz band.
Q3. Can I use any earphones with EverSync?
EverSync's receiver is equipped with a 100mW headphone amplifier, which is sufficient for most earphones. However, besides headphone power, isolating external sounds is also necessary to obtain clear monitoring. We generally recommended using in-ear headphones for better isolation and user experience.
Q4. Does EverSync have a battery? How long is the usage time?
The EverSync system consists of a transmitter and receiver. The transmitter itself does not have a battery and needs to be powered by a DC adapter or a power bank. The receiver has a rechargeable battery with a charging time of 2 hours and can operate for 8 hours*.

*The continuous usage time is based on engineering test data and may have a deviation of ±5% due to on-site environmental factors.
Q5. Can I use EverSync with my digital instruments or mixers?
Yes. The EverSync transmitter is designed with 2 in/2 out which allows users to connect and expand accordingly. However, please note that EverSync does not have a built-in preamp and phantom power, so it may not be suitable for directly connecting mic-level sources. Common wiring configurations can refer to the following diagram.
Q6. Will EverSync interfere with my ISOLO or other wireless devices?
EverSync and ISOLO use different frequency bands to avoid interference with ISOLO's 2.4GHz band. Therefore, EverSync can be used together with ISOLO without issues and is also compatible with wireless devices other than the 5.8GHz band. If you need to use different 5.8GHz devices simultaneously, it is important to adjust the channel settings to reduce interference. The more devices in the same frequency band, the higher the likelihood of interference will occur.
Q7. Can I directly pair the EverSync transmitter with my Bluetooth headphones?
It is not recommended. Firstly, EverSync uses a different transmission protocol than Bluetooth devices, so it cannot be directly paired with Bluetooth headphones. Secondly, Bluetooth devices usually have longer latency, so even if there is another way to connect them, it will result in delayed monitoring.
Q8. Why are there options to purchase additional receivers besides the complete EverSync set? Do I need to buy two or more receivers?
The EverSync transmitter can simultaneously send signals to multiple receivers. If you need to use two or more receivers at the same time, for example, to synchronize the metronome for two or more people or to record a side signal via USB audio during monitoring, you can purchase additional receivers in the desired quantity.
If you have any other questions about EverSync, not only we will continuously update the FAQ on our official website, but also we welcome everyone to participate in discussions in our product discussion group.