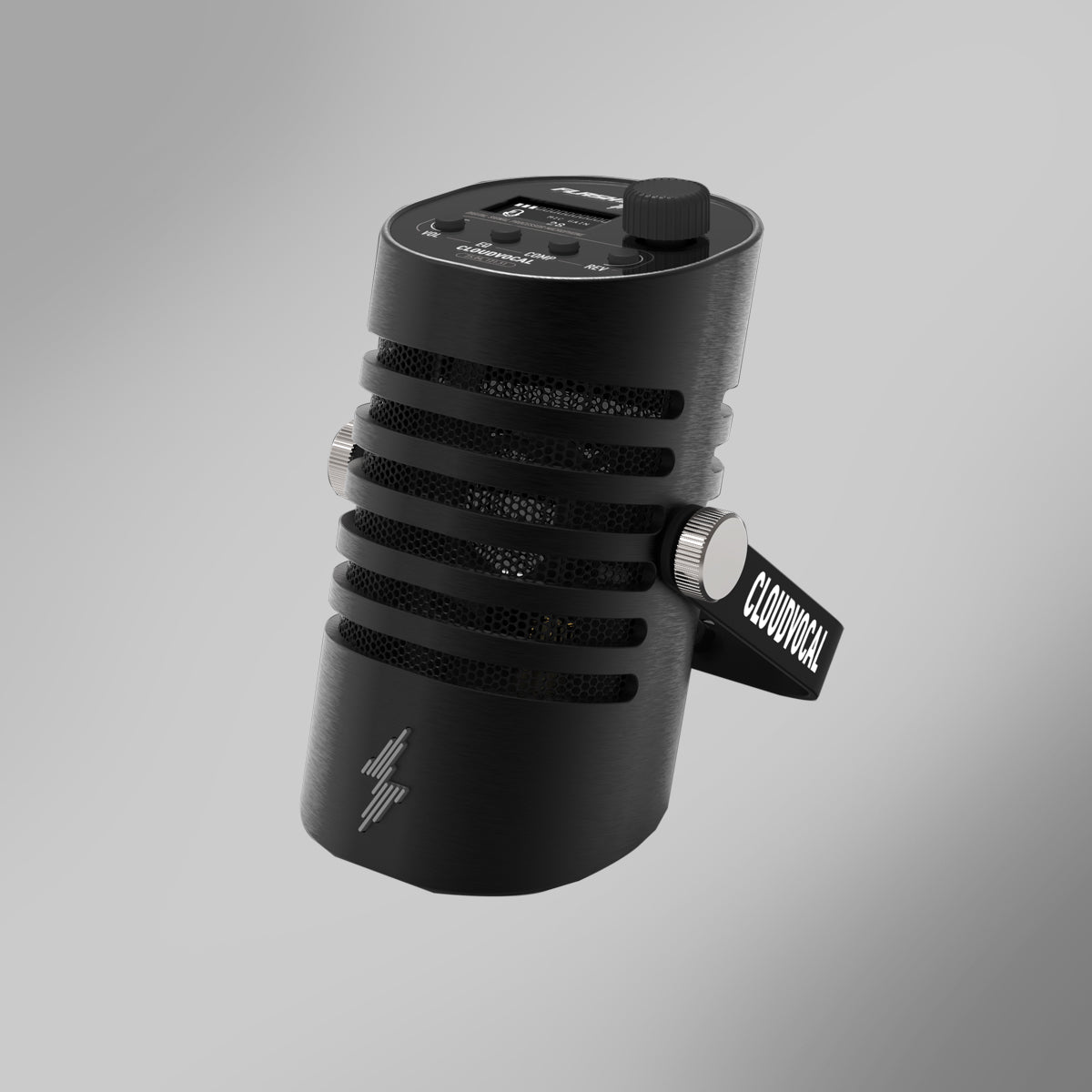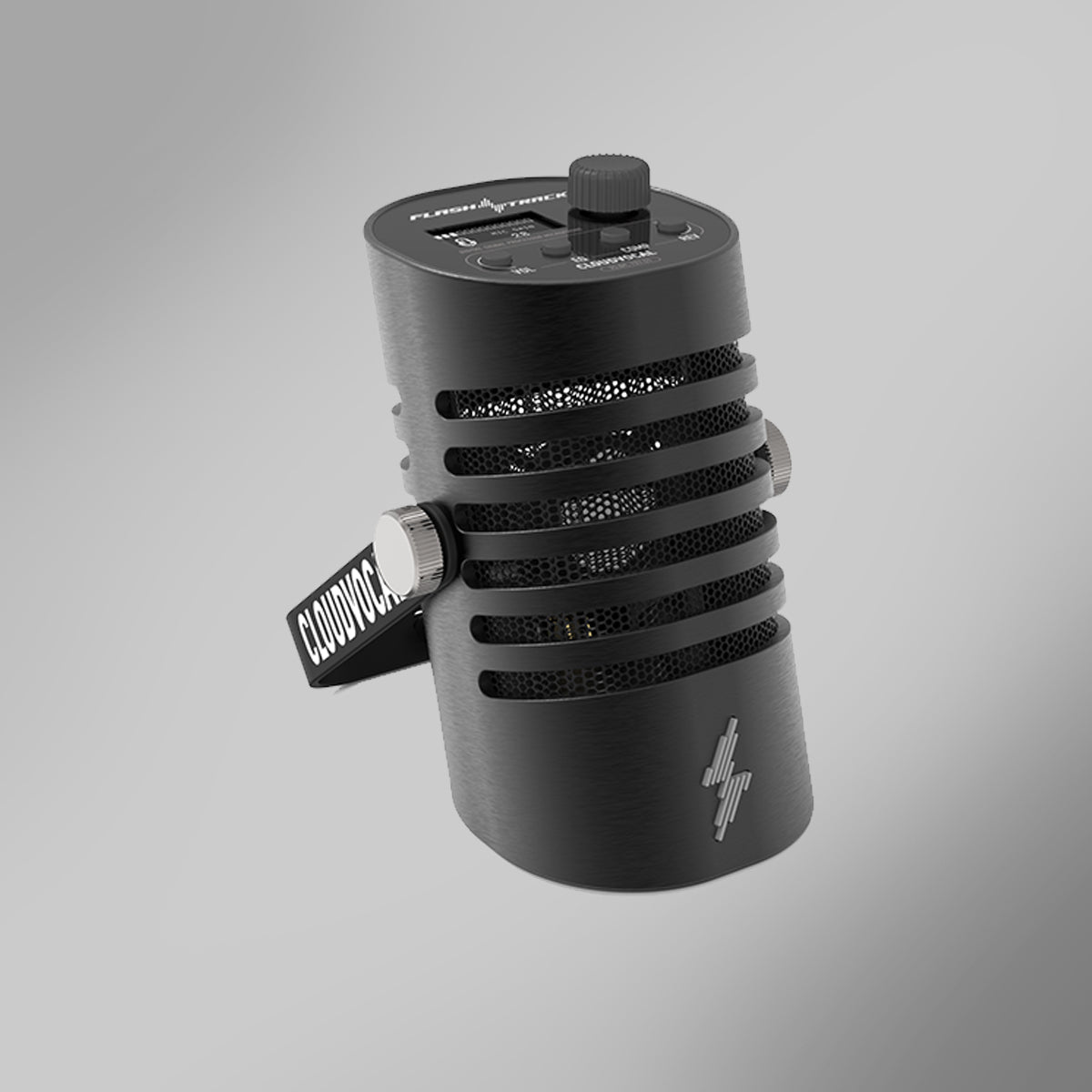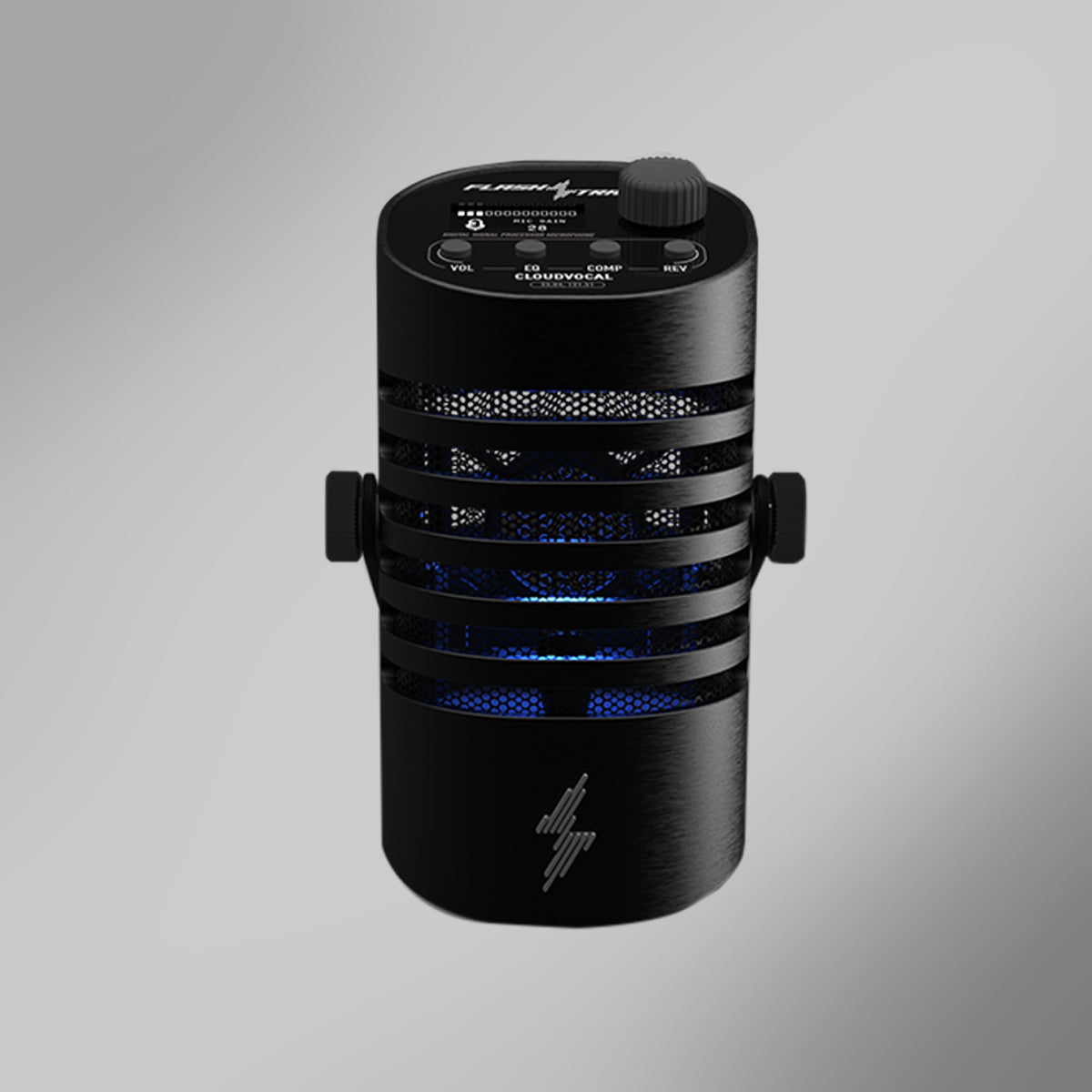 FlashTrack DSP Microphone
Sale price
$299.00
Regular price
Description
FlashTrack is a microphone that has built-in digital signal processors (DSP) which allows users to adjust their sound, effects, and simulate other iconic microphones instantly without external software or plugins. Powered by USB-C, FlashTrack can connect to your mobile devices or laptops instantly and start recording. If you care about audio quality of your content, it is your go to solution to elevate to another level just in a flash.

* Orders will start shipping from 17th of November, 2023.  
Black Friday Exclusive offer
With Black Friday sales, all FlashTrack order will come with 
Detechable Pop Filter


Desktop Mini Mic Tripod
Your flash of inspiration
The Flashtrack DSP microphone is the perfect tool for music content creation. Its large diaphragm condenser capsule guarantees a crisp and clear sound foundation. The built-in digital signal processor (DSP) empowers musicians to shape their tone and significantly enhance the audio quality of their work. The impulse response (IR) technology brings the characteristics of epic dynamic or ribbon mic to Flashtrack, expanding its versatility and inspiring creative ideas. With Flashtrack, creators can effortlessly express themselves and create with unbridled enthusiasm.
Hearing is believing
Here we include audio examples of how Flashtrack can capture the nuances and characteristics of various instruments. All tracks are recorded directly into a laptop in 24bit / 48KHz audio quality without post-editing. In order to give you a clue of what the DSP could do to the sound, we will include some tracks that applied the built-in EQ, compressor, reverb, and mic IRs. We recommend putting on earphones for the best results. Also, you may check our official YouTube channel to see how the tracks were recorded.

A solid foundation for a full and rich sound
Flashtrack utilizes a high-quality 1-inch diameter condenser capsule capable of withstanding 130dB SPL. With its built-in 46dB low-noise preamplifier circuit, it captures the nuances and dynamics of your creations. The X-shaped silicone shock mount prevents the mic capsule from absorbing mechanical vibrations, which allows the microphone to be placed in various places.
Direct access to essential EFXs without software or plug-in
FlashTrack comes with built-in digital signal processors, which allow users to directly adjust the microphone's recording EQ and add effects like reverb and compression without additional software or plug-ins. Imagine adding some compressior to make your podcast sound smooth; tweak the EQ a little bit to make your guitar strumminng have more definition; add some reverb on your vocal for a subtle sense of position and space. You can do it all !
Get inspired by the authentic microphone IRs
Through a high-performance digital signal processor, Cloudvocal is able to put two types of Impulse Response (IR) that we meticulously captured in the studio into FlashTrack. One is an iconic ribbon that gives you precise bass, warm mids and elegant highs while the other is an iconic dynamic that delivers the classic sound of FM radio voices. With the IR technology, you are able to change the characteristics of FlashTrack and hear the difference immediately.
Record with ease, share with confidence
FlashTrack is the integration of a high quality microphone, a recording interface, and an effector. It supports both 3.5mm analog and Bluetooth inputs in stereo. Through USB-C, it connects easily to your phone, tablet ,and laptop, significantly increase the audio quality to your vocal, instrument, podcast, and live streaming.
Achieve your desired tone with EQ and 8 built-in effects

When it comes to live performance, tone is not only about your physical control of your instrument but also involves a great part of adjusting EQs and effects. ISOLO PRIME provides effective EQ and specially designed effect algorithms for wind instruments to ensure that you nailed everything from the beginning of your signal chain.
Cardioid condenser capsule, studio sound where ever you are

Cloudvocal took inspiration form the studio mics to recreate the same resonance details. The mic is designed to capture the strong dynamic without compression nor distortion while cardioid pattern prevents noise bleed in loud situations.
EQ: 3 presets + 1 user-defined mode

There are 3 intuitive presets of EQ (WARM/CLEAR/BRIGHT) to begin with. For those who are looking for fine-tuning, there's also "MY EQ" for a six-band EQ adjustment.

Compressor: 4 scenarios + 1 user-defined mode
Our R&D team built 4 types of compressor settings to fit the 4 different scenarios. CAST+ for podcast and voice-over, PUNCH+ for emphasizing the punch and attack, SING+ for singing, and DYNA+ for instruments. If none of the above fits your needs, just go to "MY COMP". You can set threshold, ratio, gain, attack time, and release time to get the ideal compression for your content.

Reverb: 5 types + 1 user-defined mode
There are 5 different settings of reverb to give you a different atmosphere. For advanced users, "MY REVERB" gives you the freedom to craft your own reverb tone by setting parameters such as reverb type, tone, space, and blend.
①
OLED Display Screen
②

Switch Knob
③

VOL Button:
④

EQ button
⑤

COMP button
⑥

REV button

① RANGE BOOST

② DI / LINE OUT
DI OUT : balanced signal via 6.3mm TRS to XLR cableLINE OUT: unbalanced signal via 6.3mm TS cable

⑤ MUTE PEDAL CONNECTOR

③ LINE/MIC GAIN
Gain range: 0~40dB

④ LINE/MIC INPUT
Support MIC level to LINE level signal input via 6.3mm TS or TRS cable.

⑤ MUTE PEDAL CONNECTOR

⑥ AUX IN
⑦

LOGO Button
⑧

AUX port
⑨

USB Data Port
⑩

Bluetooth
⑪

5V DC power port
⑫

Headphone Jack

① RANGE BOOST

② DI / LINE OUT
DI OUT : balanced signal via 6.3mm TRS to XLR cableLINE OUT: unbalanced signal via 6.3mm TS cable

⑤ MUTE PEDAL CONNECTOR

③ LINE/MIC GAIN
Gain range: 0~40dB

④ LINE/MIC INPUT
Support MIC level to LINE level signal input via 6.3mm TS or TRS cable.

⑤ MUTE PEDAL CONNECTOR

⑥ AUX IN
Dimensions (without mic stand)
65mm(L)*64mm(W)*108mm(H)

Net Weight
270g

Microphone Type
Condenser

Capsule Size
Ø25mm

Pattern
Cardioid
Digital Interface
USB-C (in USB 2.0)

Bit Depth
24bit

Sampling Rate
Up to 192KHz

Frequency Response
20Hz~20,000Hz

MAX SPL
130dB
Gain Range
46dB

Headphone Out
3.5mm TRS

Aux In
3.5mm TRS

Bluetooth
Bluetooth 5.0
Having Trouble?
Our team is here to assist you
How to Set Up
Let's help you setting up Flashtrack
Coming soon
Frequent Asked Question
Have questions about Flashtrack?

View More
Related Blog
Your tone is you
GuitarPlayer Review
Instruction and operation of ISOLO System
Your tone is you
Instruction and operation of ISOLO System
Smart wireless transmission
Global standard 2.4GHz transmissionwith one-click pairing.
13 cm extended gooseneck+ Cardioid mic capsule
Extend to the sweetest mic position, prevents unwanted sound bleed in from other directions.
Advanced spring clip
Provides a swift and stablemounting alternative.
8 tailored sound effects
Includes 3 types of reverb, 2 types of delay and 3 types of harmonizer algorithm.
Compact I/O and audiophileop amp
Support up to 3 different audio sources at a time. Audiophile op amp assures all signals to sound great!
Multiple power options
You can use a standard 9V DC adapter as well as power banks with the included power cable.