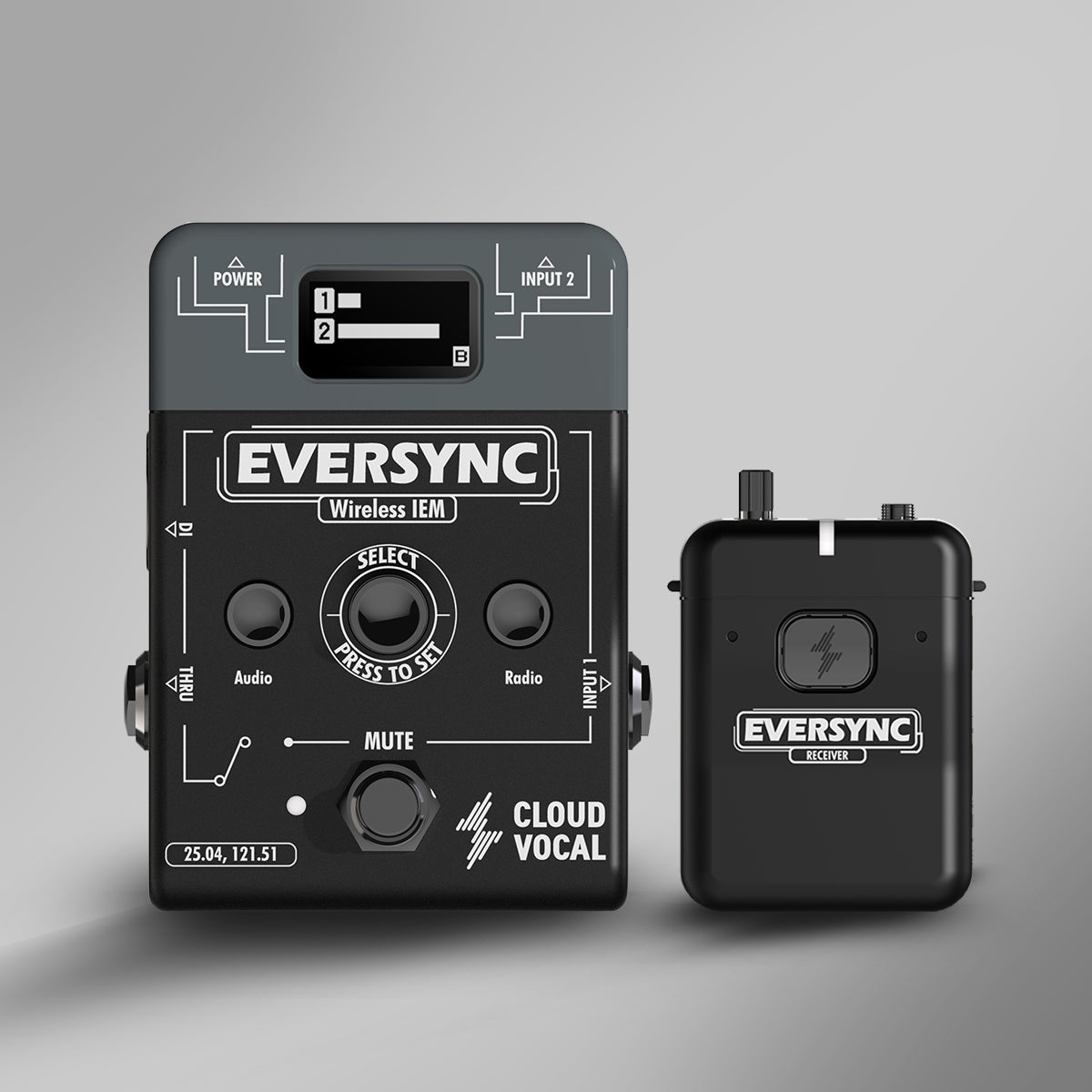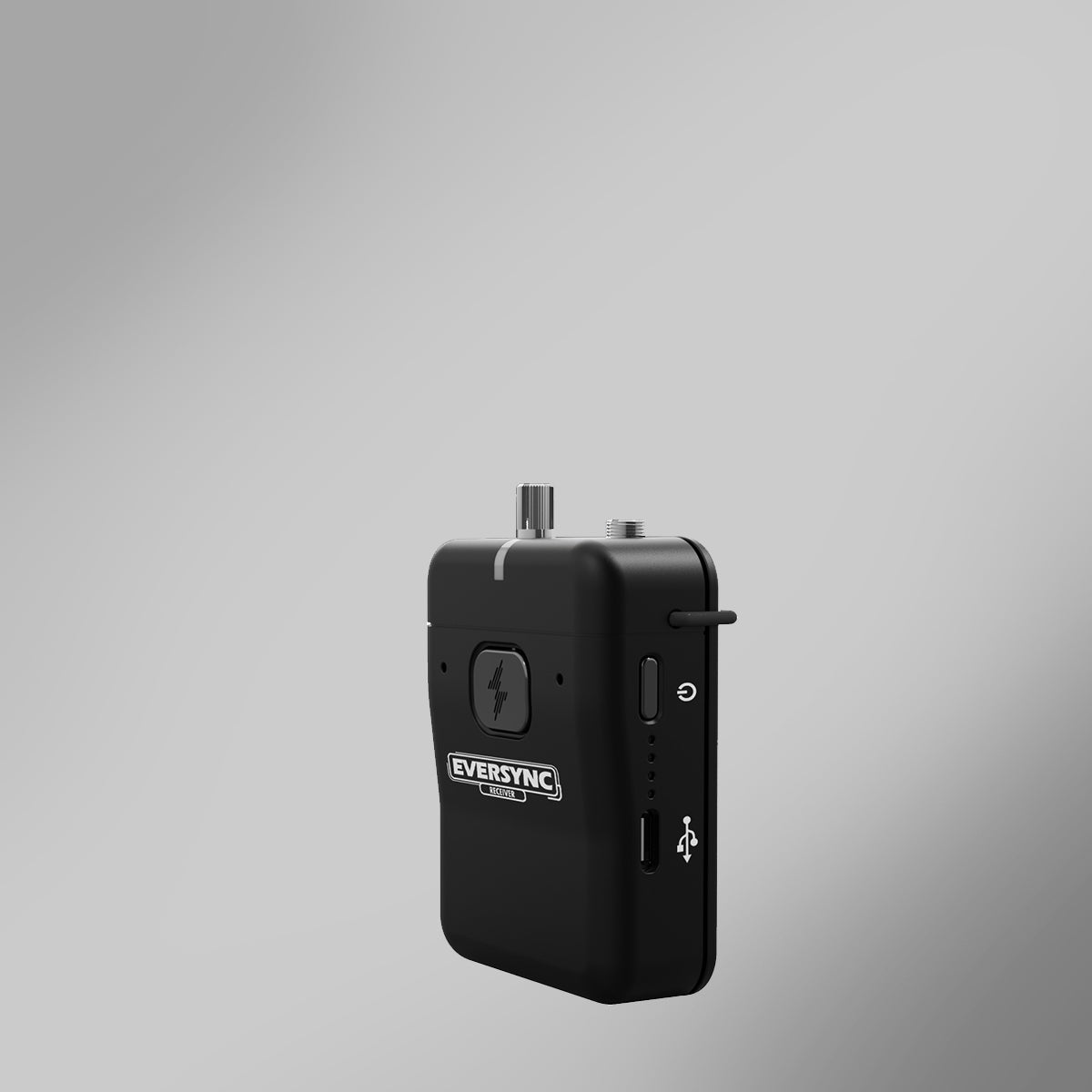 Sale price
$399.00
Regular price
Description

EverSync is a wireless IEM system designed for live performers. With the size of a stomp pedal and flexible I/O design, it assures clear monitoring in the most convenient way. 
This package contains:
ES-10T transmitter *1

ES-10R receiver *1

DC Power adapter 

USB-C charging cable

 
Manual
Sync Up. Groove on
EverSync is the first wireless IEM in Cloudvocal's product line. The system utilizes the 5.8GHz wireless band and therefore can be used alongside different 2.4GHz devices without interference, assisting performers in achieving precise control over pitch, groove, and dynamics during performances.
The ES-10T transmitter and ES-10R receiver are designed to adapt seamlessly to various stage setups while ensuring ISOLO users enjoy the convenience of a fully wireless experience in the most compact way.
5.8GHz low latency high-quality monitoring
EverSync is our first 5.8GHz wireless IEM product. The broadcasting setting allows multiple receivers to simultaneously have 24bit/48KHz high-quality audio in less than 5ms latency. Wireless range up to 100 ft in line of sight without interference.
With a four-selectable channel design, it supports up to four separate monitoring mixes for various scenarios.
Ultra performance without complexity
With the help of the OLED screen, users are able to navigate through all the features effortlessly. From adjusting input gain, wireless pairing, to channel switching, all the controls will have corresponding icons and indicators.
One device, limitless possibilities
Thanks to the isolated power design, the transmitter can be either powered by a USB-C cable or a standard DC-9V effect pedal adapter without the annoying noise. Meanwhile, the DI and thru output enable performers to have limitless options for using EverSync.
More than a body-pack receiver
100mW headphone output plus a selectable volume limiter, powerful but not harmful. Extra 1/8" aux-in input allows another audio source while pairing with the transmitter. Built-in rechargeable battery, providing 8 hours of battery life. The USB-C has a charging function and is also a USB audio port for streaming or content creation.
Achieve your desired tone with EQ and 8 built-in effects

When it comes to live performance, tone is not only about your physical control of your instrument but also involves a great part of adjusting EQs and effects. ISOLO PRIME provides effective EQ and specially designed effect algorithms for wind instruments to ensure that you nailed everything from the beginning of your signal chain.
Cardioid condenser capsule, studio sound where ever you are

Cloudvocal took inspiration form the studio mics to recreate the same resonance details. The mic is designed to capture the strong dynamic without compression nor distortion while cardioid pattern prevents noise bleed in loud situations.
5.8GHz broadcasting wireless connection
Avoids interference from 2.4GHz wireless products. A perfect match with the ISOLO system for performers who expect to have a complete wireless setup.
8 hours of extended operation time
Enjoy up to 8 hours of wireless monitoring by the high-capacity rechargeable battery. A visible battery status indicator will show the battery life during using or recharging.
100mW powerful output
The ES-10R receiver has enough power to get most headphones working. While the built-in volume limiter can be turned on in case to prevent hearing loss from prolonged use.
4 selectable wireless channels
There are a total of 4 wireless channels that can be switched manually on the transmitter. Users are able to create 4 different mixes with 4 transmitters simultaneously.
2 in 2 out, flexible signal connection
The ES-10T transmitter can connect to the mixer's monitor output like most IEMs, while the DI output and mute switch allow the ES-10T placed at the end of your signal chain.
Isolated power design
Either power it up via a DC-9V adapter or a USB-C there will not be any noise problems.
*No batteries inside the transmitter.
①

POWER BUTTON
②BATTERY INDICATOR
③USB-C CHARGING/DATA PORT
④

AUX-IN INPUT--1/8" TRS


⑤HEADPHONE CONNECTOR
⑥PAIRING BUTTON
⑦HEADPHONE VOLUME
⑧

STATUS INDICATOR


⑨

VOLUME LIMITER



①

OLED SCREEN


②RADIO FUNCTION KEY
③
MAIN FUNCTION

KEY


④

AUDIO FUNCTION KEY


⑤

MUTE SWITCH


⑥

MUTE/PAIRING INDICATOR


⑦

INPUT 1--1/4" TS


⑧

INPUT 2--1/4" TS


⑨

INPUT 2--1/8" TRS


⑩

USB-C POWER SOCKET


⑪

DC POWER SOCKET


⑫

DI OUTPUT--XLR


⑬

THRU OUTPUT--1/4" TS




① RANGE BOOST

② DI / LINE OUT
DI OUT : balanced signal via 6.3mm TRS to XLR cableLINE OUT: unbalanced signal via 6.3mm TS cable

⑤ MUTE PEDAL CONNECTOR

③ LINE/MIC GAIN
Gain range: 0~40dB

④ LINE/MIC INPUT
Support MIC level to LINE level signal input via 6.3mm TS or TRS cable.

⑤ MUTE PEDAL CONNECTOR

⑥ AUX IN
System specs
Transmit Bandwidth
5.8GHz broadcasting

Sampling Rate
24bit/48KHz

Latency
<5ms


Frequency Response
20Hz-20KHz

Total Channels
4 channels

Operating Range
30 meters (or 100ft) in an Open-range environment without interference.
ES-10T transmitter
Dimensions
107mm(L)*76mm(W)
*46mm(H)

Net Weight
238g ± 10g

Power Supply
USB-C / DC9V 200mA
Inputs
Ch1
6.3mm TS*1
Ch2
6.3mm TS*1
3.5mm TRS*1

Outputs
balanced XLR*1
unbalanced TS*1
ES-10R receiver
Dimensions
70mm(L)*50mm(W)
*23mm(H)

Net Weight
65g± 3g

Inputs
3.5mm TRS*1

Output
3.5mm TRS*1
100mW (max)


THD
0.29%
@1KHz, max output

Battery Type
Rechargeable lithium battery

Battery Life
8 hours
Contents
Main box
ES-10T transmitter*1
ES-10R receiver*1
Quick start guide
User manual

Accessory package
Universal DC power adapter
USB to DC power cable
USB-C charging cable
Having Trouble?
Our team is here to assist you with all your problems.
What is an IEM? Some frequently asked questions about EverSync
EC-5: A Balanced Tuning and Sound Isolation Earphone for Performing & Recording
Smart wireless transmission
Global standard 2.4GHz transmissionwith one-click pairing.
13 cm extended gooseneck+ Cardioid mic capsule
Extend to the sweetest mic position, prevents unwanted sound bleed in from other directions.
Advanced spring clip
Provides a swift and stablemounting alternative.
8 tailored sound effects
Includes 3 types of reverb, 2 types of delay and 3 types of harmonizer algorithm.
Compact I/O and audiophileop amp
Support up to 3 different audio sources at a time. Audiophile op amp assures all signals to sound great!
Multiple power options
You can use a standard 9V DC adapter as well as power banks with the included power cable.